How to get to your apartment
Directions
Here you will find the link for Google Maps. Click on the button and you will be able to set up your navigation afterward. The exact address is 1072, Budapest Dob utca 52.
TRANSFER OPTIONS FROM THE AIRPORT
MAP FROM AIRPORT TO JOBELHOME
https://goo.gl/maps/LhudJzfnE6rVgTP46
BY BUS FROM THE AIRPORT
https://bkk.hu/en/travel-information/public-transport/airport-shuttle/
Buy a shuttle ticket at the airport, 900 HUF (may change). Take bus 100E to DEÁK FERENC TÉR (square). If you don't have a lot of pieces of luggage, take a walk through the famous Király Street while you are arriving at your apartment (it's 15 minutes from Deák Ferenc tér)
TAXI
Should you wish to take a cab, please note it should not cost more than 20-25 EUR. There is a FŐ TAXI stand within the arrival terminal that you can go up to and they will take care of your transfer right away. 
SHUTTLE SERVICE
You can also pre-order your shuttle service via the below website: https://www.minibud.hu/en
When you arrive at Dob street
After you have successfully arrived on Dob street, you will find the JobelHome Plate next to the main entrance of the building.
Entering the Pincode for the Main door on the street
On the right of the gate, you will find the pinpad where you should fill in the code: 100 "Key" (🔑) 1000
❗️The inner gate opens together with the iron gate. Be careful with the gate and don't get stuck between the iron gate and the inner gate!
After getting into the building
Please take the stairs and get up to the second floor (US: 3rd floor)
When reaching the top of the 2nd floor, please turn to the right, our apartments will be the first door on the right. Door: Jobelhome Apartments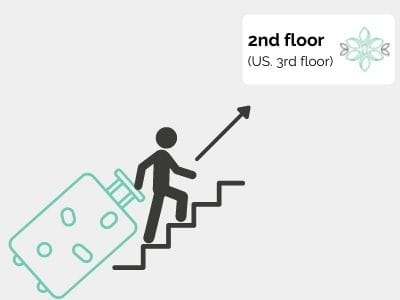 Entering your Pincode on the 2nd floor
You will find a pinpad on the right of the main door for the JobelHome apartments. Here you should enter your pincode (find it in your confirmation message) and press the "tick" (✔️) icon.
Your code will open the main door and your apartment's door as well. After stepping into the foyer inside you will notice a green light right above the door of your apartment.
Getting into your apartment
After entering your pincode and entering the apartment hall, you will find your apartment by the name "Bartok", "Kodaly", "Lehar". Also, you will see a green light above the door of your apartment.
Congrats!
You have successfully gotten into your apartment. Have a great time in Budapest!